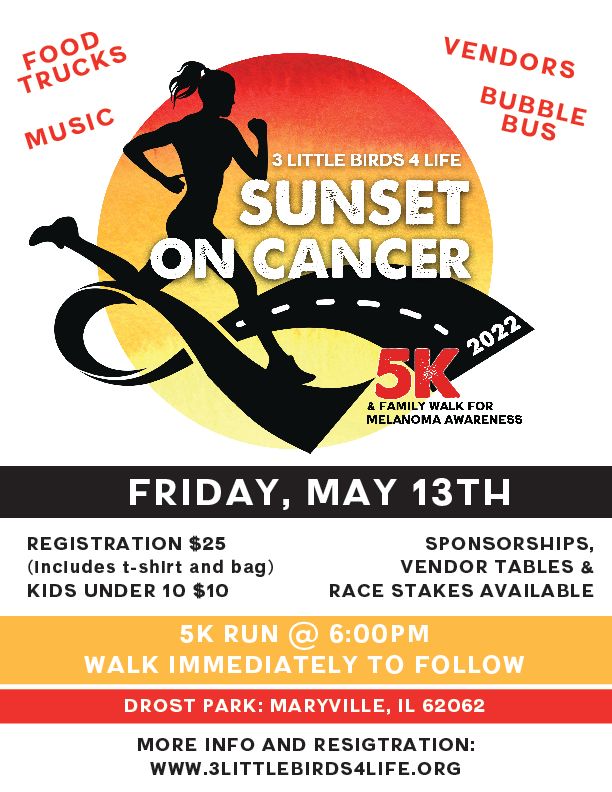 Sunset on Cancer 5K/1K
May 13, 2022 6pm
We would love for you to join us in putting the "Sunset on Cancer" at our inaugural family friendly 5K/1K run/walk. This event will be held in the evening, to make sure we provide a safe environment for surivors, patients, family, and friends who have sensitivity to the sun. Here are the details:
Date- May 13th
5:00-6:00pm Registration
6:30pm Run starts/Walk immediately follows
Where- Drost Park, Maryville IL
Cost- $25/person (includes Tshirt and Goodie Bag)
In Person/Virtual Options available
$10 kids 100m dash (ages 10 and under)
Who are we?
3 Little Birds 4 Life Provides Celebrations And Love To Those Who Truly Have Something To Celebrate! We Believe The Small Things Should Be Celebrated.
Our Celebrations-
Birdie Box-Gift Box full of items that will help with boredom and may ease symptoms of treatment.
Celebration Box- Gift box full of items to help a cancer patient Celebrate their Win.
"The Works" Celebration-This Experience will include a Birdie Box, Celebration Box, and an In-Person Celebration (for those who live in the St Louis Metro area) to include music, confetti, photo shoot, and so much more. We can bring a Celebration to a home, parking lot, etc.